Bio
Fabrizio Bellafante (Milano, 1974) inizia presto a fare pratica negli studi di sviluppo e stampa di Milano – tra cui lo Studio Partisani – e a dedicarsi al fotoreportage, al fotogiornalismo (ha collaborato con varie agenzie di stampa) e alla fotografia astratta. Dalla fine degli Anni Novanta espone in alcuni dei principali locali, teatri e gallerie a Milano, cercando incroci e convergenze tra le sue foto e elementi musicali.  Alla prima mostra, sull'India, a Le Trottoir di Milano, seguono, tra le altre, "Neo expressionism", serie di immagini di stampo futurista, e "Into the Void", di stampo surrealista. Nel 2009 collabora con il noto fotografo di Polaroid Maurizio Galimberti. Espone nella galleria EF arte nel 2011. I suoi lavori hanno suscitato l'interesse di critici come Roberto Mutti, Angela Madesani e Vittorio Sgarbi. Nel febbraio del 2012 espone alla Casa delle culture di Milano la mostra 'water vision' curata da Pino Diecidue e da Carolina Daniele, patrocinata dalla provincia di Milano. Nel maggio 2012 partecipa alla mostra collettiva "intorno all'acqua, per un pianeta sostenibile" promossa dala Fondazione D'ars.
La mostra Water Vision viene replicata nella galleria "9 Colonne" di Milano e nella Biblioteca Comunale della zona 6 sempre a Milano a cui il quotidiano Repubblica dedica una galleria con le fotografie della mostra sul proprio sito. Collabora stabilmente con la fondazione D'ars presentando mostre e scrivendo articoli per il quotidiano 'il giorno'. Nel maggio 2013 partecipa alla mostra collettiva 'Shop_le joux d'amour' ideata da Pino Diecidue e curata da Alessia Locatelli presso la galleria Ostrakon di Milano.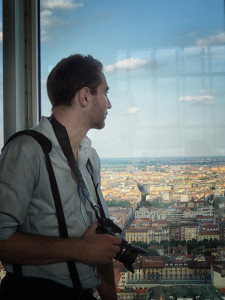 Nel gennaio 2014 partecipa alla collettiva 'Figura Acqua' alla Ex-Fornace di Milano, promossa dal Comune e dalla fondazione per l'Expo 2015.
Ad ottobre 2014 espone la mostra fotografica 'A dream of India' patrocinata dal consolato indiano, presso la galleria 'City Art' di Milano. Il quotidiano Repubblica dedica una galleria con le fotografie della mostra sul proprio sito.
A Dicembre 2014 partecipa alla mostra collettiva 'Sfumature dell'arte nel Mondo' presso lo spazio Atene a Milano, nel gennaio 2015 alla mostra collettiva 'Delli giuochi, delle umane societati et di regole .com' presso la galleria 'City Art'.
A maggio 2015 partecipa alla mostra collettiva 'Figura Acqua Parte III' presso lo spazio 'SeiCentro' promossa dal Comune e dalla fondazione per l'Expo 2015.
Ad Aprile 2016 partecipa al MIA PHOTO FAIR 2016 con la galleria Fabbrica EOS, a Maggio 2016 espone la mostra "Doppio Scatto. Sovrapposto fino a qui" una bipersonale con il fotografo siciliano Davide Bramante presso la galleria Fabbrica EOS di Milano curata da Alberto Mattia Martini.
Nel Marzo del 2017 la mostra "Doppio Scatto. Sovrapposto fino a qui" viene replicata nella sede della Azimut Holding nello storico palazzo Bocconi di Milano.
Tra il 2016 e il 2018 vive tra Milano e Tehran.
A Dicembre 2017 espone la mostra personale "Iran Mental Planes" presso la galleria Aaran art Gallery di Tehran.
Per ottobre 2019 è attesa la nuova mostra "Chains" a Milano.
Collabora in pianta stabile con alcune agenzie milanesi di moda e pubblicita'.
————————————————-
Fabrizio Bellafante was born in Milan in 1974 and started his first job as a photographer at 19 years of age in a photographer shop processing photos then in the Partisani studio in Milan. From 1995 until april 2010 he worked as a contract manager for a big company but he never forgot about his first passion -photography. In 1999 he set up his first exhibition, the theme was the India, in Milan at the venue Trottoir. From then he has had his work exhibited in many places like theatres and music venues and also at the disco Hollywood in Milan. His interests focus on a mix of visual art and music. Subsequently his work was exhibited at the Luciano Inga Pin gallery in Brera and other Milan galleries with work such as "Neo Expressionism" a sort of futuristic vision and "Into the Void", a surrealist work. He worked with the Agency Fotogramma and in 2009 he worked with Maurizio Galimberti of Polaroid. His work has been seen by several art critics amongst them Roberto Mutti, Giuliana Scime' and Vittorio Sgarbi. At present some of Fabrizio's photographs of the series "Everything
Shines" have been exhibited at the EF Arte gallery in Milan. In 2012 his work will be shown at La Casa delle culture del mondo with the exhibition "WATER VISION" – curators:Carolina Daniele and Pino Diecidue.
In May 2012 he partecipates at the collective art exhibition "Around the world for a more sustainable planet" promoted by the foundation D'Ars. The exhibition "Water Vision" is replicated at the gallery' Nove Colonne' of Milan and at the Municipal Library in area 6 of Milan.
The newspaper 'Repubblica' dedicated a gallery with photographs of the exhibition on its website. He permanently collaborates with the foundation D'Arsp resenting exhibitions and writing articles for the newspaper 'Il Giorno'.
In May 2013 he partecipates at the collective art exhibition "Shop-les jeux d'amour"designed by Pino Diecidue and looked after by Alessia Locatelli at the gallery Ostrakon in Milan.
In January 2014 he partecipates at the collective art show "Figura Acqua" at the ex furnace of Milan,promoted by the Municipality and by an organization caring projects linked to Expo 2015, The photograph exhibition "A dream of India" is scheduled by October 2014, sponsored by the indian consulate in Milan at the 'City Art Gallery' in Milan.
In December 2014 participated in the exhibition 'Shades of art in the World' at the space Athens to Milan in January 2015 in the exhibition 'Delli games, the rules of human societăţi et .com' at the gallery 'Art City'.
A May 2015 participated in the exhibition 'Water Figure Part III' in space 'SeiCentro' sponsored by the City and the Foundation for the Expo 2015.
In May 2016 there will be a two-person exhibition with the Sicilian photographer Davide Bramante at the gallery Factory EOS Milan and simultaneously to MIA PHOTO FAIR 2016.
Between 2016 and 2018 he lives between Milan and Tehran.
In December 2017 he exhibited the personal exhibition "Iran Mental Planes" at the Aaran art Gallery in Tehran.
For October 2019 the new "Chains" exhibition is expected in Milan.
He collaborates on a permanent basis with some Milan's fashion and advertising agencies.